09:29
The consumer watchdog has called for much tougher government vetting of private companies selling Covid-19 tests to travellers, following revelations about poor service from "rogue" operators that it said had resulted in a lottery for customers.
The Competition and Markets Authority (CMA) said the market for PCR tests, in which private businesses apply for inclusion on a government-approved list, was not working and risked causing a "race to the bottom" among companies touting for customers.
The intervention comes amid concern about the quality of service provided by testing companies, who are thought to have made sales of more than £500m since mid-May, when non-essential international travel resumed.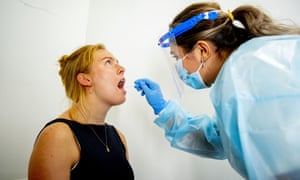 The Guardian has previously revealed that companies who appeared on the government's list of approved suppliers lost customers' test kits, failed to provide results and withheld refunds.
Updated


08:17
The Welsh first minister, Mark Drakeford, was repeatedly asked during his press conference if new restrictions or lockdowns were bound to happen. But he insisted: "Nothing is inevitable."
Drakeford said the Welsh government's cabinet would discuss next week the idea of introducing vaccination passports in certain circumstances. "There are a series of practical and ethical issues which need to be considered," he said.
He said passports would not be introduced in settings that people had no choice but to go to but he said there could be an argument for introducing them for places where people gathered voluntarily in large numbers if having two vaccinations could be shown to reduce the risk.
The first minister asked people to think twice about visiting in-patients in hospital. Cwm Taf Morgannwg university health board, has severely restricted people visiting its hospitals in south Wales.
Drakeford continued to dismiss the idea of a Welsh-only inquiry on its handling of the Covid crisis. He said he believed a UK-wide version was the "best way".
But he said:



We will need assurances that a UK-wide inquiry would be constructed in a way that would allow for a direct focus on the decisions made here in Wales but also to be able to understand them in that wider context.
Updated


08:06
The German company BioNTech, which developed the Pfizer vaccine, expects to seek approval from regulators for Covid jabs suited for younger children as early as mid-October, its founders have said.
"Already over the next few weeks we will file the results of our trial in five- to 11-year-olds with regulators across the world and will request approval of the vaccine in this age group, also here in Europe," BioNTech's chief medical officer, Özlem Türeci, told the German news magazine Der Spiegel.
Türeci said her company was working on producing the vaccine, which was the same product being administered to adults and children aged 12 and older but in smaller doses.
"Things are looking good, everything is going according to plan," said the chief executive, Ugur Şahin, who added that the company was also expecting trial data for younger children aged over six months.
Israel in late July gave the green light for vaccinations with the BioNTech/Pfizer jab to children aged five to 11 at risk of serious health complications, such as brain, heart or lung problems.
Read more here:

07:23
More from Welsh first minister Mark Drakeford's press conference:
Mark Drakeford warned that the pandemic was definitely not over. He said: "For six weeks now, Wales has been at alert level zero. This means all businesses are able to open and there are fewer legal restrictions in place to control coronavirus than at any time since the start of the pandemic 18 months ago. The key message I have to emphasise today is that this does not mean the virus has gone away. The pandemic is not yet over."
Drakeford said cases had been at their lowest in April and May but since the Delta variant hit they had been steadily rising since June.
The first minister said health and care services were already experiencing staffing pressures, through a combination of annual leave, staff working in other areas, sickness and isolation.
"Our health and care staff are exhausted after working so hard and so intensely over the last 18 months," he said.
Drakeford asked citizens to think if they could get care from a local pharmacist or GP rather than going straight to A&E.
The first minister said there were a "significant" number of people who could be vaccinated who hadn't yet been jabbed and were at risk of catching Covid. "We know that many who are admitted to hospital have not been vaccinated – and many are under 30 or younger."
Updated


07:22
The Welsh first minister, Mark Drakeford, has revealed that he expects the current wave of Covid-19 infections to peak towards the end of this month and said the country is ready to give booster vaccines and jabs for children if these are approved.
At a press conference in Cardiff, Drakeford said there were now around 520 cases per 100,000 people in Wales, the highest this calendar year.
If the virus continues to spread at its current rate, Drakeford said he expected to see around 3,200 cases confirmed every day as this wave peaks towards the end of the month.
He said "pandemic pressure on the NHS" was increasing once again. At the moment there are around 40 Covid-19 hospital admissions a day. There are just over 420 confirmed cases in hospitals across Wales – the highest number since March. But the modelling suggests there could be 100 new Covid-19 hospital admissions every day as the wave peaks.
Drakeford said he expected the Joint Committee on Vaccination and Immunisation to soon confirm the arrangements for the autumn booster programme.
"There is emerging evidence from Israel that the effectiveness of vaccines may start to decrease after eight months, making a booster jab important," he said. "We will start sending invitations out as soon as the announcement is made and our NHS has worked hard to make sure it can start the programme as soon as it gets the go ahead.
"At the same time, the four UK chief medical officers are continuing to discuss and take further expert evidence about whether the vaccine should be available to 12 to 15-year-olds. We are expecting a decision next week and, if the rollout is agreed, the NHS here, will be ready to begin."
Updated


06:51
A 100-year-old care home resident has issued a video plea for greater freedom, complaining that thousands of people can go to pop festivals but she is being prevented from seeing two of her children at her home in Yorkshire.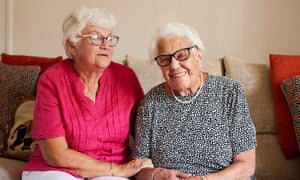 Frances Heaton said "human rights and equality are out of order altogether", as 240,000 people signed a petition demanding a new law ending isolation for care home residents, with many saying care operators are still refusing to follow government advice on facilitating visits and are imposing their own stricter regimes. The petition is titled: "Please let me hug my family before it's too late!"
Updated


06:09
More than 8,000 people in the UK were in hospital with Covid on Wednesday – the highest figure for nearly six months – leading to fears of a resurgence in the virus' ability to cause serious illness and death among the population.
In countries with high rates of vaccination, such as the UK, fewer people are predicted to become ill enough to require hospital treatment, even if infection rates remain high. But the latest figures show the highest number of patients on wards since 10 March.
The 8,085 people in hospitals across the UK represents a 6% increase on the previous week.
Nevertheless, the figures are still well below those recorded at the peak of the second wave. On 18 January, 39,254 patients with Covid-19 were in hospital – the highest at any point since the pandemic began.
Hospital numbers have been rising slowly but steadily since the third wave of the virus began in May. In Scotland, 928 patients are in hospital – the highest number since late February. In Wales, patient numbers stand at 428 – the highest since mid-March.
Read the full story here:

06:01
Around half of parents worried about their child returning to school